Fast VPN is a very big deal to switching and navigating sites easily. Secure VPN is another big deal to enhance the trust of the user to use a particular VPN for a very long time without worry about it. Good VPN's are the medium for connecting with a trusted network and gives the security or privacy of the user's authenticated data. Generally, VPN's are used to get access to restricted content or specific region-restricted content and to access the web content with anonymity. Here's are the few best example of Top 5 Fast and Secure VPN Apps for Android, macOS, Windows, iOS, Linux users. Let's see the best secure VPN 2020 in detail.
A Good VPN provides you –
A

Good VPN

provides you the top algorithm to navigate immediately and securely to another web site or web page.
A

Good VPN

provides you to surf the web with anonymity.
A

Good VPN

provides you to fast and secure transactions.
A

Good VPN

provides you with seamless speed without a time out error message.
A

Good VPN

provides you to do the encrypted transactions.
1.ExpressVPN
ExpressVPN app gives the best services to the user as compared to other VPN service providers. It is such a big deal to spread the 3000+ VPN servers in the whole world without compromising on the speed.
It protects you with the 256-bit AES encryption technique and secures your data transactions. It has quite a few features to protect and improve your privacy. For Example: you can enable kill switch to disconnect from the Internet immediately when the VPN connection drops.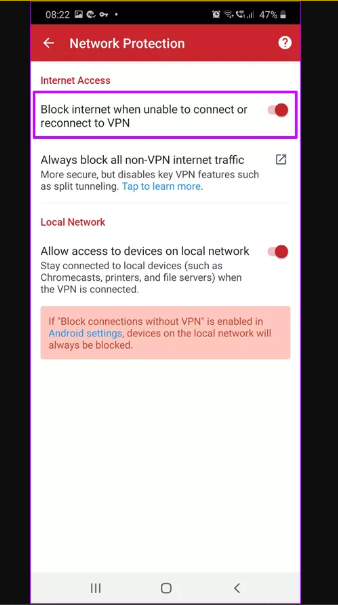 The ExpressVPN app is easy to use and navigate through this. Tap on the server card to connect, and the VPN service will pick up the fastest server nearest to you automatically. Alternatively, you can pick the server from the list of recommended servers or pick one from around the globe. Yep, it's as easy as that.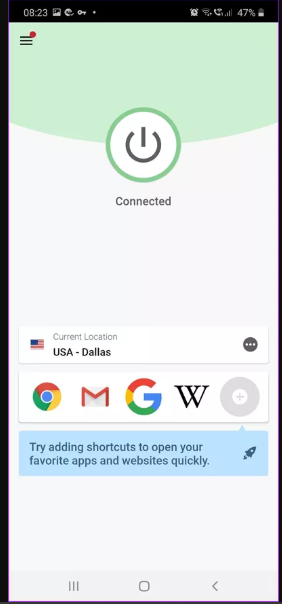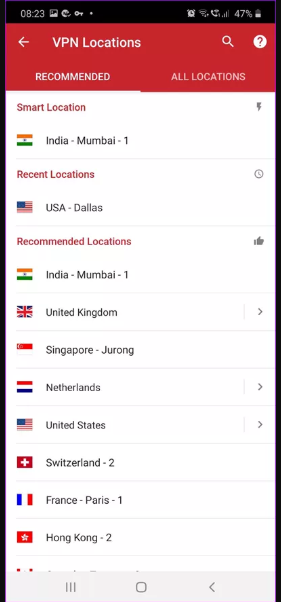 By default, the service picks up an Automatic VPN protocol, however, you are free to switch to UDP and TCP protocols. What's more, it bundles a feature named Split Tunneling, using which you can bar some apps from using the VPN service.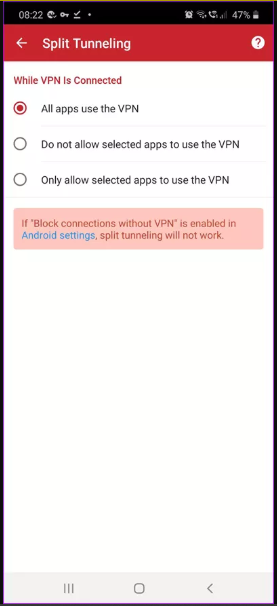 ExpressVPN allows simultaneous connection of up to 5 devices and even lets you tie your Fire TV stick to the service.
It offers three price plans. i recommend year-plans since it offers the biggest saving and if you are not happy with the service, you can opt for the nifty 30 day money back guarantee.
BittuTech Exclusive >> Grab the 49% discount on the 15-months ExpressVPN plan when you signup using the link below.
Downloads for – Android, iOS, Linux, and Windows.
Simultaneous Connection – 5
2.NORDVPN
Additional platforms: macOS, iOS, AndroidTV, Linux, Windows, Chrome, and Firefox.
Simultaneous connections: 6.
This is another best VPN App for users. It provides good speed and quick to connect to the VPN and surf the restricted web content. it also offers the huge network of servers across the world. it has a clear no-logging policy and supports up to six devices to connect simultaneously.
What makes NordVPN stand out is its unique feature set. For example, you can keep your phone safe from malware and phishing scams via the CyberSec feature. Secondly, the Android app lets you access NordLynx, through which you can access higher speeds without jeopardizing your privacy. And there's a Kill Switch feature as well.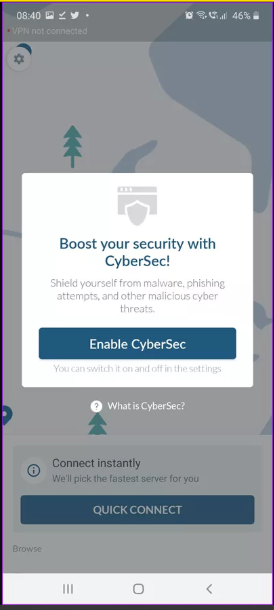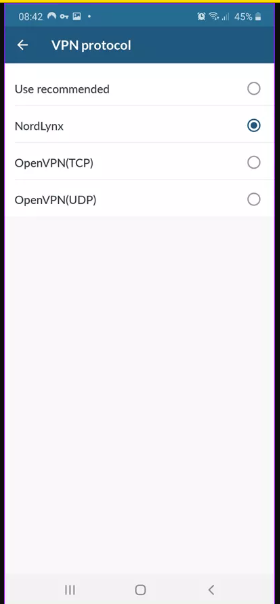 Navigating around the Android app is easy and simple. There's a quick connection feature for going online quickly and connecting to a fast server automatically. Alternatively, to access the servers of a particular location, just swipe up. And connecting to a new server is easy as tapping on one.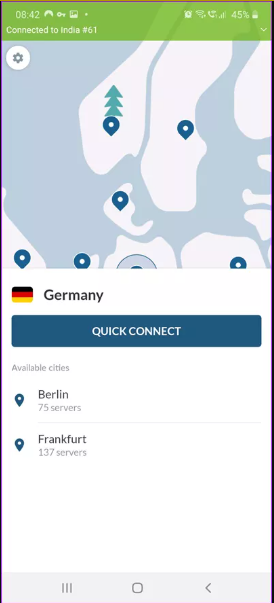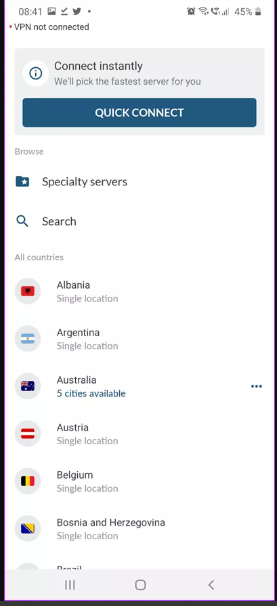 The NordVPN app also lets you access P2P servers and obfuscated servers in case you're feeling a bit festive about torrenting or masking your identity strictly. Furthermore, if you are based outside the United States, you can also access US Netflix via this VPN (ExpressVPN also allows that).
A 12-month NordVPN plan will cost you around $6.99 per month, and the monthly plan will set you back by $11.95 per month.
NOTE: Grab a 70% discount on a 3-year NordVPN plan when you sign up using the link below.
3.SURFSHARK
Additional platforms: iOS, macOS, Windows, Linux, Fire TV.
Simultaneous connections: Unlimited.
SurfShark may come across as a new service but it is rapidly gaining its credibility. This new VPN service has servers in over 800 countries and supports IKEv2 and OpenVPN protocols and has a handy Kill Switch feature.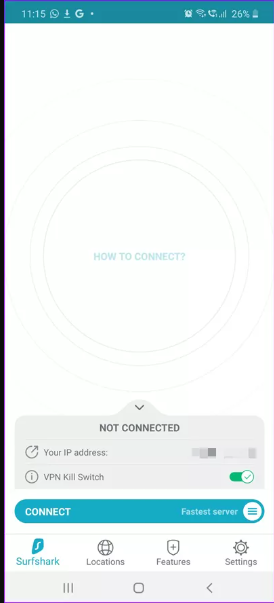 Well, those are the standard features. So what makes it stand out? For one, SurfShark offers a new GPS spoofing feature for Android, which ensures that any apps requesting your location won't get your actual location. Instead, they will get the location of the VPN server to which you are connected. For instance, browsing on (**cough**) Tinder or Bumble.
Secondly, it bundles two interesting features called CleanWeb and No Borders. You can use CleanWeb to block all the ad trackers and malware, while No Borders will get access to sites and services that are region-restricted. And yeah, you can access Netflix as well.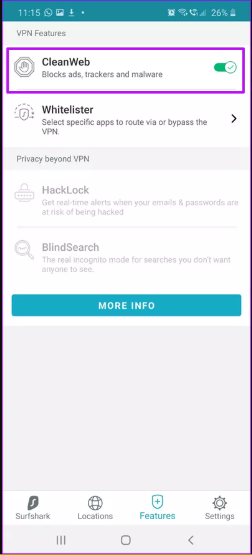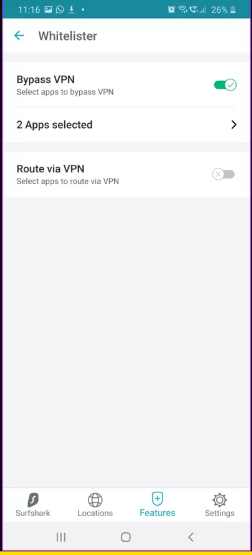 The app interface is intuitive and easy-to-understand. All the features are laid out in front so neatly that exploring them is quite a delight.
Unfortunately, SurfShark doesn't offer any free trial. However, you do get a 30-day money-back guarantee. The monthly plan starts at $11.95, but if you opt for the 24-months plan, you save around 83%.
4.PROTONVPN
Additional platforms: iOS, macOS, Windows, Linux, and Routers.
Simultaneous connections: Up to 10 devices.
Unlike other VPN Apps, Proton VPN App provides a modern and responsive app pages and all the pages are user-friendly on there. this also provides AES 256-bit Encryption and sends data in the encrypted form. The connection button is not located in the middle of the screen, it is located on the bottom right corner as shown in the below picture.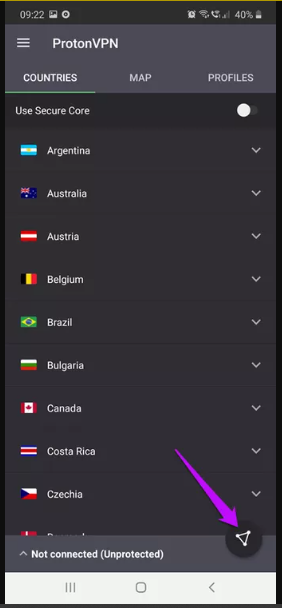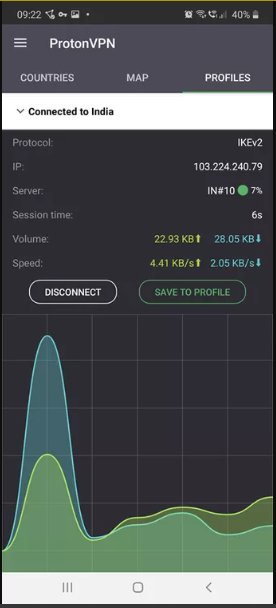 The app has some unusually great options. Hop into the settings, and you will find options to enable/disable Secure Core, DNS leak Switch, Kill Switch, and Alternative Routing. The latter is usable for bypassing firewalls or network issues.
Proton VPN has about 800 servers worldwide. The best part about connecting to these servers is that you can see the load on them before you connect.
The highlight of ProtonVPN is that you can try out the free plan before you invest in one of the paid plans. The free plan stitches a few limitations. For instance, you can only have one connection and can access servers only in three countries. On top of that, you will get medium speeds, and access to Secure Core VPN and TOR over VPN are restricted.
You can remove those limitations by upgrading to a paid plan, which starts at $4 per month.
ProtonVPN is a No-Logs VPN service. In ProtonVPN's words, "We do not log users' traffic or content of any communications." All the apps are open source and are audited.
BITTU TECH EXCLUSIVE: Grab a 34% discount on a two-year plan when you sign up using this link.
5. TUNNELBEAR
Additional platforms: iOS, macOS, Windows, and Chrome.
Simultaneous connections: 5
Tunnelbear is a newer one in the VPN environment. This is very simpler VPN app for non-technical user and connect with this app server through one click. It is made for also those users who want to use a free version of VPN. its free version provides 500MB of data and connect only one device. Instead, the paid version provides unlimited data for browsing and connect up to 5 devices. A simple swipe up gesture will reveal all the available servers.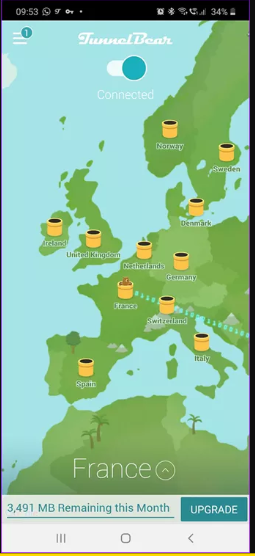 It also provide 256-bit encryption for sending and receiving the user data which makes your device difficult to be tracked.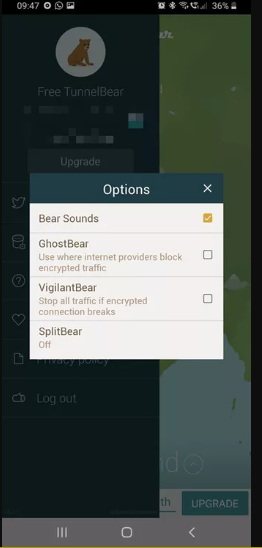 The Android app bundles several nifty features like GhostBear, VigilantBear, and SplitBear. The former comes in handy in countries where VPN services are banned, while the latter two are fancy names (**wink wink**) for Kill Switch and Split Tunneling.
Unlike the Android VPN apps above, TunnelBear doesn't have a wide server network. For now, you get to select servers from 23 countries, including Europe, Japan, India, North America.
NOTE: You can save 58% with a 2-Year TunnelBear plan when you sign up using the link below.
Sum up all VPN Apps for Android – Secure VPN
All VPN Applications are used to do the same task but their functionality and algorithms are different to secure and provide the best result. Free VPN doesn't provide full functionality to the user and sometimes we can not take a risk to download a free VPN because we don't want to compromise with our data.
Further More Reading :